These are more approaches to the same topic featured in the Teacher's Guide, but just a different way of looking at it. Expect activities to illustrate the topic followed by some questions.
BIBLE STUDY OPTIONS
---

Remembering God's Actions
BASED ON EXODUS 14:1-31
MATERIALS NEEDED
 Art supplies and materials such as scrapbook paper and decorating items/glue, construction paper, markers, watercolors, etc.
Many of the stories in the Bible thrill people of all ages. You probably have some that are your favorites. There may even be one that has a particularly special meaning to you based on what you're feeling right now or going through at this time in your life.
Toward the end of John's Gospel, when John is talking about the good news regarding Jesus, he states the purpose of sharing all these stories about Jesus. You can find it in John 20:30-31 (NIV): "Jesus performed many other signs in the presence of his disciples, which are not recorded in this book. But these are written that you may believe that Jesus in the Messiah, the Son of God, and that by believing you may have life in his name."
That's pretty straightforward, isn't it? John wrote these stories about the amazing things Jesus did so we could trust in him as the one God promised would come save us. When we believe, we receive the life God desires for us.
But there are other books in the Bible, too. And not all of them are about the few years Jesus was on earth. Many of them talk about God's people, and contain both good and bad examples of choices they made. Fortunately, we're able to read the entire Bible and access examples of people—positive as well as negative—from both the Old and New Testament. Here are five examples from each:
SOME OLD TESTAMENT EXAMPLES
SOME NEW TESTAMENT EXAMPLES
When Paul wrote to the believers in Corinth, he made reference to the children of Israel during their time in the desert—the very thing we're studying in Youth Sabbath School now. According to Paul, we can learn from the mistakes of God's people in the past. Here's what 1 Corinthians 10:11 says in the Good News Translation: "All these things happened to them as examples for others, and they were written down as a warning for us. For we live at a time when the end is about to come."
QUESTIONS
Which Bible story provides a good example for you?
Which Bible story provides a bad example for you?
What makes an example good or bad?
Do you think we should only have positive stories in the Bible? Explain.
Is there someone in your life who provides a good example for you?
Have you ever provided a good or bad example for others? When?
How do you help yourself remember examples from the past so they can help you in the present?
Imagine that you were one of the Israelites who had been set free from Egyptian slavery following the tenth plague—when the angel of death killed the firstborn male in each house that didn't have the blood of the lamb on its doorpost. Listen to what the Bible has to say about this moment in the Israelites' lives and fill in the story with your own perspective. What are you seeing, hearing, smelling, and feeling? Here's Exodus 14:5-31 (NLT):
5 When word reached the king of Egypt that the Israelites had fled, Pharaoh and his officials changed their minds. "What have we done, letting all those Israelite slaves get away?" they asked. 6 So Pharaoh harnessed his chariot and called up his troops. 7 He took with him 600 of Egypt's best chariots, along with the rest of the chariots of Egypt, each with its commander. 8 The Lord hardened the heart of Pharaoh, the king of Egypt, so he chased after the people of Israel, who had left with fists raised in defiance. 9 The Egyptians chased after them with all the forces in Pharaoh's army—all his horses and chariots, his charioteers, and his troops. The Egyptians caught up with the people of Israel as they were camped beside the shore near Pi-hahiroth, across from Baal-zephon.
10 As Pharaoh approached, the people of Israel looked up and panicked when they saw the Egyptians overtaking them. They cried out to the Lord, 11 and they said to Moses, "Why did you bring us out here to die in the wilderness? Weren't there enough graves for us in Egypt? What have you done to us? Why did you make us leave Egypt? 12 Didn't we tell you this would happen while we were still in Egypt? We said, 'Leave us alone! Let us be slaves to the Egyptians. It's better to be a slave in Egypt than a corpse in the wilderness!'"
13 But Moses told the people, "Don't be afraid. Just stand still and watch the Lord rescue you today. The Egyptians you see today will never be seen again. 14 The Lord himself will fight for you. Just stay calm."
15 Then the Lord said to Moses, "Why are you crying out to me? Tell the people to get moving! 16 Pick up your staff and raise your hand over the sea. Divide the water so the Israelites can walk through the middle of the sea on dry ground.17 And I will harden the hearts of the Egyptians, and they will charge in after the Israelites. My great glory will be displayed through Pharaoh and his troops, his chariots, and his charioteers. 18 When my glory is displayed through them, all Egypt will see my glory and know that I am the Lord!"
19 Then the angel of God, who had been leading the people of Israel, moved to the rear of the camp. The pillar of cloud also moved from the front and stood behind them. 20 The cloud settled between the Egyptian and Israelite camps. As darkness fell, the cloud turned to fire, lighting up the night. But the Egyptians and Israelites did not approach each other all night.
21 Then Moses raised his hand over the sea, and the Lord opened up a path through the water with a strong east wind. The wind blew all that night, turning the seabed into dry land. 22 So the people of Israel walked through the middle of the sea on dry ground, with walls of water on each side!
23 Then the Egyptians—all of Pharaoh's horses, chariots, and charioteers—chased them into the middle of the sea. 24 But just before dawn the Lord looked down on the Egyptian army from the pillar of fire and cloud, and he threw their forces into total confusion. 25 He twisted their chariot wheels, making their chariots difficult to drive. "Let's get out of here—away from these Israelites!" the Egyptians shouted. "The Lord is fighting for them against Egypt!"
26 When all the Israelites had reached the other side, the Lord said to Moses, "Raise your hand over the sea again. Then the waters will rush back and cover the Egyptians and their chariots and charioteers." 27 So as the sun began to rise, Moses raised his hand over the sea, and the water rushed back into its usual place. The Egyptians tried to escape, but the Lord swept them into the sea.28 Then the waters returned and covered all the chariots and charioteers—the entire army of Pharaoh. Of all the Egyptians who had chased the Israelites into the sea, not a single one survived.
29 But the people of Israel had walked through the middle of the sea on dry ground, as the water stood up like a wall on both sides. 30 That is how the Lord rescued Israel from the hand of the Egyptians that day. And the Israelites saw the bodies of the Egyptians washed up on the seashore. 31 When the people of Israel saw the mighty power that the Lord had unleashed against the Egyptians, they were filled with awe before him. They put their faith in the Lord and in his servant Moses.
QUESTIONS
What did you see, hear, and feel during this story?
If you were in the Israelites' position and didn't know how the story was going to end, would you have doubted that Yahweh could or would save you?
Would you have been afraid of Pharaoh?
Would you ever be tempted to doubt God's presence in your life from this point forward?
If God did something this dramatic for his people in Old Testament times, do you think he would still do it today?
Why don't we hear more about what God is doing in people's lives today?
How can God's people remember what God has done in the past?
ACTIVITY
QUESTIONS
Which was more difficult—coming up with an example of something God has done or finding a way to communicate it?
In what other places and in what other ways do you think you can find God's activity in people's lives recorded?
Is there anyone you would want to share your story with?
Why do you think God isn't as active today as he was in the Old Testament?
Why don't more people share God's activity today?
How spectacular does something have to be to make it worthy of remembering or sharing?
Would you rather God be spectacular or intimate
God may have been active in both the Old and New Testament, but he continues to be active today as well! This week let's try to find more ways to share this good news with others and to remember it ourselves.
SUMMARY
To make the most out of every moment we have, we need to focus on the things God has done for us in the past. This includes Bible times as well as today! Sometimes it's easy to think we'll never forget the things God has done in our lives, but history shows that people can often forget even the most spectacular of God's actions. Reminding ourselves of these experiences when we have them and recording or sharing them with others is important. God desires a friendship with us in which both he and we are active!
---

Following God's Lead
BASED ON EXODUS 13:21-22; 14:19-20
Wouldn't it be great if God would just show us where he wanted us to go (or not go)? It would be so easy to follow God. There would never be any second-guessing or confusion on our part, and no silence on God's part.
But the records we have from the Bible indicate that this is not always the case with him. God wants a relationship with us, not a remote-control manipulation. That means what he wants is to walk with us! And just as babies need help learning how to walk, so God's people need help along the way with him.
When God freed his people from slavery in Egypt, they had been so accustomed to being told exactly what to do by their taskmasters that they weren't used to thinking for themselves or having a personal relationship with someone as powerful as God. So God decided to provide them with baby steps that would help them learn how to trust in the amazing, supernatural God who had just his power over all the Egyptians, including Pharaoh!
When you or someone you know is driving to a new place or through an area of town you're not familiar with, are you used to using a GPS, or Global Positioning System, to tell you where to go? Well before a GPS ever existed, the Israelites had their own version of it—a God Positioning System. You can read about it in Exodus 13:21-22 (NLT):
21 The Lord went ahead of them. He guided them during the day with a pillar of cloud, and he provided light at night with a pillar of fire. This allowed them to travel by day or by night. 22 And the Lord did not remove the pillar of cloud or pillar of fire from its place in front of the people.
When Moses and the Israelites left Egypt, they weren't following Moses' sense of direction. They were following God's cloud, which led them to Red Sea even though the Pharaoh and his army were on their trail.
With the Egyptians coming up behind them, it almost seems like God led the Israelites into a trap with the Red Sea on one side and a large range of mountains on the other, leaving them with nowhere to go! Why would God have done that?
We can find the answer in Exodus 14:17-18 (NLT). Yahweh told Moses, "My great glory will be displayed through Pharaoh and his troops, his chariots, and his charioteers.  When my glory is displayed through them, all Egypt will see my glory and know that I am the LORD/Yahweh!"
And that's not all. When Pharaoh and his army got close enough to attack the Israelites, God used the cloud (and the angel leading it) to protect his people. Here's a description from Exodus 14:19-20 (NLT):
19 Then the angel of God, who had been leading the people of Israel, moved to the rear of the camp. The pillar of cloud also moved from the front and stood behind them. 20 The cloud settled between the Egyptian and Israelite camps. As darkness fell, the cloud turned to fire, lighting up the night. But the Egyptians and Israelites did not approach each other all night.
That would have been cool to see! Even after God had already demonstrated his power to him in Egypt, the Pharaoh evidently still thought his army could take Yahweh and his people. But his confidence in the timidity of the children of Israel was wrong. Once God's people people had crossed the Red Sea, he let the waters drown the Egyptians as they were trying to follow them. This meant that not only were Pharaoh and all the soldiers in his army dead, but thanks to the tenth plague in Egypt the Pharaoh's firstborn son and heir was dead as well. This is the last we hear of the Egyptians harassing the Israelite people, and it all happened because of God's leading with the cloud.
QUESTIONS
Why would the Israelites be afraid of Pharaoh and his army if they had God's cloud leading them?
Why would Pharaoh and his army try to take the Israelites captive again after they had already experienced the ten plagues of Egypt and begged the Israelites to leave?
How do you think Moses felt when God told him to raise his staff and part the sea?
Are you willing to trust and follow God, even if it's into places or situations that you wouldn't choose for yourself?
Has there been a time in your life when you chose to follow God even though it didn't make sense to you at the time?
Has there been a time when you chose not to follow God because it didn't make sense?
What does God's cloud and way of leading you look like in your life?
ACTIVITY: COLOR CONFUSION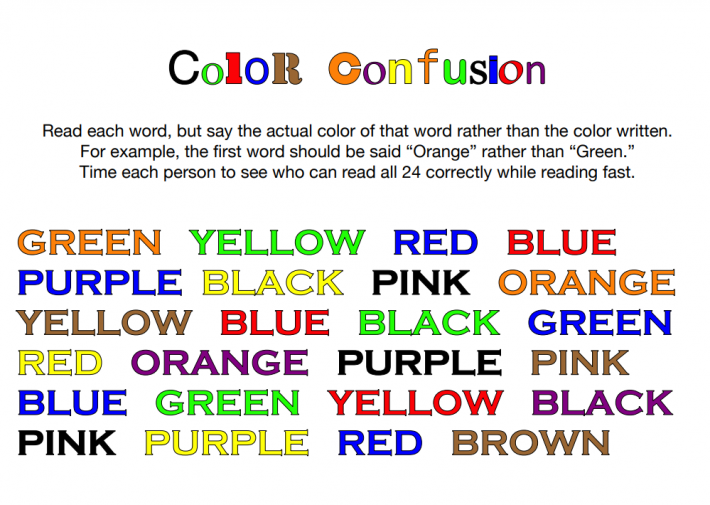 QUESTIONS
What made this difficult?
What made it easy?
Does God make following him difficult or easy?
Do you make following God difficult or easy?
What are some key ways that enable you to follow God?
God provided the newly-freed Israelites a GPS for how to get from Egypt to the Promised Land. That didn't mean the way was always easy or without trouble, but it did mean that God was with them the whole time. It almost seems unbelievable that his people would ever doubt God was there or cared for them with that cloud there with them that whole time, doesn't it? But even they did doubt and disobey, God was still with them. It makes us wonder if there are any obvious indications of God's leading in our lives that we're currently missing, taking for granted, or ignoring completely. Thank you for revealing yourself to us, God, and please forgive us when we miss or dismiss you! Thank you for staying with us!
SUMMARY
God led his people away from Egypt by sending that cloud to guide them. It led them to the Red Sea, where Pharaoh and his army caught up to them and—seemingly—had them trapped. But God led to them that spot as part of his plan and the process he was using to care for them and build their trust in Him. That cloud was not only present in their lives, but active. In the same way, God is present and active in our lives today.
---

This Is My Story, This Is My Song
BASED ON EXODUS 15:1-21
You can find the phrase "Sing a new song to the Lord" several times in the book of Psalms. (For example, see Psalm 33:3; 40:3; 96:1; 98:1; and 144:9.) The simple meaning of this is that when a person has a new experience, they often need to a song to communicate it.
This can be especially true for young people who have grown up in a family that believes in God. During a person's teen years, they often feel a need to find God for themselves. What may have worked for them as children—repeating the spiritual ideas and practices of the people around them—often doesn't work any longer. That is the point when a young person needs a new song.
But before they can find and sing that new song, they need to have a new experience. This explains why many young people who grow up with God are excited when they have the chance to experience something new that is outside of their familiar setting, such as during a short-term mission trip, a weekend retreat, a summer away from home, etc. In these cases, it's not that God was real for the person before, it's just that God has become more personal to them now.
QUESTIONS
Have you grown up with exposure to God because of the people around you, such as your family?
Have you had some kind of experience in your life that made God become more personal for you?
If you have had one of those experiences, how would you describe it? Was it a "wow" kind of an experience, a quiet awakening, or something else altogether?
If God isn't real to you at this time, welcome to Youth Sabbath School. One of the most important goals we have here is to help make God real and personal for each one of you, no matter what your age or experience might be.
We can actually help each other in this journey! One way to do it is by listening and sharing in each other's journeys and stories. Sometimes when a person gives a testimony, it can encourage or ignite the faith of someone else. One way to do this is to, as the Psalms put it, "sing a new song."
Music can be very powerful. The kinds of songs you like to listen to might express emotions you're feeling or describe experiences that are similar to ones you've had in your life. That could easily be why you like them so much!
Our Scripture passage for today includes what people often refer to as the "Song of Moses," although the Bible indicates both he and the people of Israel sang it together (Exodus 15:1). The thing that had inspired them to sing was watching God deliver them from Pharaoh and his army by allowing them to walk on dry ground through the Red Sea, then destroying their enemies when they tried to follow them. Would you have been able to come up with adequate words to describe that kind of experience? The Israelites used music! Here are the words they sang, as recorded in Exodus 15:1-18 (NLT):
Then Moses and the people of Israel sang this song to the Lord:
"I will sing to the Lord,
  for he has triumphed gloriously;
he has hurled both horse and rider
  into the sea.
2 The Lord is my strength and my song;
  he has given me victory.
This is my God, and I will praise him—
  my father's God, and I will exalt him!
3 The Lord is a warrior;
  Yahweh is his name!
4 Pharaoh's chariots and army
  he has hurled into the sea.
The finest of Pharaoh's officers
  are drowned in the Red Sea.
5 The deep waters gushed over them;
  they sank to the bottom like a stone.
6 "Your right hand, O Lord,
  is glorious in power.
Your right hand, O Lord,
  smashes the enemy.
7 In the greatness of your majesty,
  you overthrow those who rise against you.
You unleash your blazing fury;
  it consumes them like straw.
8 At the blast of your breath,
  the waters piled up!
The surging waters stood straight like a wall;
  in the heart of the sea the deep waters became hard.
9 "The enemy boasted, 'I will chase them
  and catch up with them.
I will plunder them
  and consume them.
I will flash my sword;
  my powerful hand will destroy them.'
10 But you blew with your breath,
  and the sea covered them.
They sank like lead
  in the mighty waters.
11 "Who is like you among the gods, O Lord—
  glorious in holiness,
awesome in splendor,
  performing great wonders?
12 You raised your right hand,
  and the earth swallowed our enemies.
13 "With your unfailing love you lead
  the people you have redeemed.
In your might, you guide them
  to your sacred home.
14 The peoples hear and tremble;
  anguish grips those who live in Philistia.
15 The leaders of Edom are terrified;
  the nobles of Moab tremble.
All who live in Canaan melt away;
16   terror and dread fall upon them.
The power of your arm
  makes them lifeless as stone
until your people pass by, O Lord,
  until the people you purchased pass by.
17 You will bring them in and plant them on your own mountain—
  the place, O Lord, reserved for your own dwelling,
  the sanctuary, O Lord, that your hands have established.
18 The Lord will reign forever and ever!"
And that wasn't all. Miriam and the women joined in by singing, "I will sing to the LORD, for he has triumphed gloriously; he has thrown both horse and rider into the sea" (Exodus 15:21 NLT).
QUESTIONS
What line or phrase stands out to you in this song?
What do you imagine this music sounded like?
Do you think they did any dancing alongside this music? Describe how you think it might have looked.
Do you often sing? What does it take for you to want to sing?
Do you often dance? What does it take for you to want to dance?
How likely are you to do these things in response to something God does or has done in your life?
If you already do, what kinds of situations or experiences inspire you?
ACTIVITY
QUESTIONS
Have you ever used a song to tell your story before today?
What does your song communicate about your story?
If you were to share your song with anyone else in your life, who would it be?
Is there anyone in your life who would be able to share a song with you?
How open are you to having new experiences and using new songs to express them?
SUMMARY
Music is powerful! It has a strong connection to our emotions, which is an important element of God's unique creation of us in his image. When we have a new spiritual experience, it often helps to use music to express it. We can also encourage others by sharing our experience with them or appreciating theirs. Whatever we do, we should always remember that singing a new song is an important part of expressing our relationship with God.